Social contact configurations of international students at school and outside of school: Implications for acculturation orientations and psychological adjustment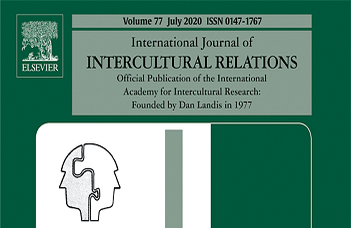 The study of
Nguyen Luu Lan Anh
, habilitated associate professor of the
Institute of Intercultural Psychology and Pedagogy of ELTE PPK
and co-authors (Ágnes Szabó and Z. Zsuzsanna Papp) was published in the
International Journal of Intercultural Relations.
Abstract
Social contact has been widely investigated as a contributing factor to international students' cross-cultural adaptation. Previous investigations have focussed largely on understanding the relation between distinct sources of social contact and adaptation-related outcomes. What is less understood is whether different combinations of social contact are associated with different outcomes for international students and if these effects vary across formal (school) and informal (outside of school) contexts. In the present study, we use a person-centred approach to explore international students' social contact configurations based on frequency of contact with co-nationals, locals, and other internationals at school and outside of school. Data from 291 international students were subjected to latent profile analysis and five contact configurations were identified: 1) isolated (12.7 %), 2) socializing with other internationals only (14.4 %), 3) socializing with other internationals and Hungarians (12.4 %), 4) socializing with co-nationals only (35.4 %), and 5) socializing with co-nationals and Hungarians (24.7 %). Patterns of interactions were largely consistent across contexts. Contact profiles reflected different acculturation orientations and showed differences in psychological outcomes. A stronger host culture orientation was associated with profiles characterized by frequent contacts with locals (Profiles 3 and 5), whereas home cultural orientation was greater in profiles characterized by frequent contacts with co-nationals (Profiles 4 and 5). The profile displaying frequent contacts with both co-nationals and locals reported the greatest psychological wellbeing, whereas the isolated profile was linked to poor psychological outcomes. Overall, findings highlight the importance of considering the configuration of social contacts as a whole.
The full article is available here.