WINNERS OF THE OTDT ROSKA TAMÁS COMPETITION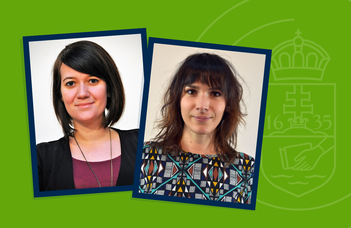 A total of 16 young doctoral students, including Alexa Luca Erdei and Boglárka Vekety, two students of the ELTE PPK Doctoral School of Education, will present their research in the scientific sections of the 36th OTDK, which will start in April.
In 2017, the National Scientific Student Council (OTDT) established the Roska Tamás Academic Lecture institution, which provides an opportunity for doctoral students, doctoral students and postdocs under 35 years of age to present their work with recognition. The winners of the competition will have the opportunity to present their results in their professional research field at the National Science Student Conference (OTDK), which is held every two years.
The winners will also have the opportunity to publish the results of their presentation in Hungarian Science, receive a cash prize, a certificate of recognition, a commemorative medal, and a recommendation for publication in prestigious scientific journals, and OTDT will support their applications for scientific and talent development competitions.
Luca Alexa Erdei and Boglárka Vekety from ELTE PPK, both students at the Doctoral School of Education, were among the best candidates.
Luca Alexa Erdei, Assistant Professor at the Institute for Adult Education Research and Knowledge Management (FTI), member of the FTI Research Group on Organizational and Workplace Learning and Deputy Head of the Mobility Working Group of the European University Association CHARM, will present her research entitled "Investigating organizational learning processes induced by international joint master's programmes" in the Learning and Teaching Methodology - Knowledge Technology Section.
In her presentation, she will present the main results of her PhD research, which explored the role of master's programmes designed and implemented in international partnerships in supporting organisational learning, and the potential of the programme's use at the organisational level through international case studies. The results show that international joint training offers a number of benefits not only for the project team implementing the programme, but also for higher education organisations more broadly, including the development of educational and management processes at the organisational level, the stimulation of research collaborations, and the rethinking of organisational operations through both international and intra-organisational collaborations.
Boglárka Vekety, a lecturer at the Institute of Educational Sciences, won the prize in the Pedagogy, Psychology, Andragogy and Library Science Section of the OTDK with her entry 'These are today's children', a meta-analysis of changes in emotional and behavioural problems in recent decades. Her research, carried out with colleagues, was inspired by the often-heard catchphrase 'These kids today are more troubled than they used to be! Their results show that today's children's problems in some emotional and behavioural areas have decreased or remained unchanged compared to previous generations, while in some other areas the saying has proved true.