Our students at the european university games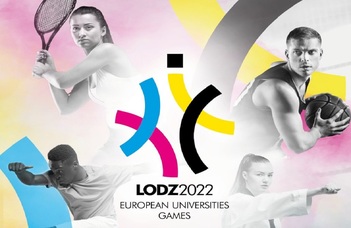 17 students will represent ELTE PPK as part of ELTE's 26-member delegation in the 6th European University Games from July 17 to 30 in Lodz, Poland.
Around 6,000 athletes from 46 countries, including more than four hundred Hungarians, will compete for medals and valuable positions at the continent's largest university sports event, which takes place every two years. At the European University Games, participants do not represent their own national teams, but rather the higher education institution with which they are affiliated as students.
Eötvös Loránd University will compete in five different sports, with a large number of Hungarian, European and world champion athletes.
PPK, ELTE's most athletic faculty, delegates 17 students to the competition, most of them current or recently graduated students of the Institute of Health Development and Sports Science in Budapest and the Institute of Sports Science in Szombathely:
Futsal
Bartucz Martin sports and recreation organization, recreation organization and health development
Bencsik Gergő sports and recreation organization, sports organization
Roland Boros sports and recreation organization, recreation organization and health promotion
Péter Diós sports and recreation organization, sports organization
Áron Gémesi sports organization
Máté Kovács sports organization
Péter Ábrahám is a physical education teacher
Sajben Marcell sports organization
Gergő Sipos sports and recreation organization, sports organization
Gyula Dániel Tarpai sports and recreation organization, sports organization
Barnabás Várkonyi sports and recreation organization, sports organization
Judo
Réka Varga physical education and history teacher
Kickboxing
Martin Bálint recreation and lifestyle
Ákos Bolfán physical education - history teacher
Patrik Grünczeisz sports and recreation organization, recreation organization and health promotion
Emánuel László Szmolek is a physical education teacher
Taekwondo
Enikő Lili Tóth psychology major