Judit Balázs received an MTA Bolyai Plaque award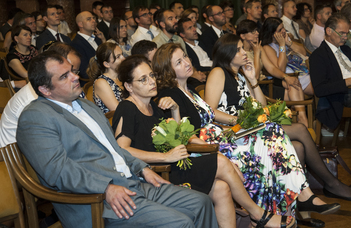 Judit Balázs, the professor and head of the Department of Developmental and Clinical Child Psychology at ELTE, received an MTA Bolyai Plaque award, within the framework of János Bolyai Research Scholarship. The award can be granted to the most prominent researchers, who have already won the Bolyai Scholarship, and it is handed over by the president of the MTA on the annual Bolyai Day.
Judit Balázs won the Bolyai Research Scholarship in 2015. In her research, she developed more efficient suicidal prevention, consisted of 6 empirical examinations, identified previously not described risk factors of suicidal behaviour and clarified formerly known risk factors. Furthermore, a youth suicide prevention program of proven efficiency has been established.
Education and research have a key role in Judit Balázs's professional activity. As a professor, she provides up-to-date knowledge to her students in the field of clinical child psychology. Her researches are structured around clinical issues. As the head of the Research Group of Childhood Mental Disorders, she is continuously extending her researches with new subdivisions, and she is trying to strengthen the international collaborations.